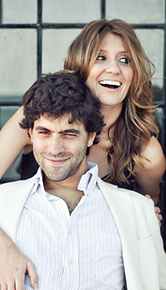 Journalist, Author
Did you book me to speak at your university or bar mitzvah and need my bio for the program? Here you go:
Andrea Chalupa is a journalist and the author of Orwell and The Refugees: The Untold Story of Animal Farm. She has written for TIME, The Atlantic, The Daily Beast, and Forbes. Some of the institutions where she has spoken include Columbia University, McGill University, and the National Press Club in Washington, DC. She is a founder of DigitalMaidan, an online movement that made the Ukrainian protests the #1 trending topic on Twitter worldwide at a time when the mainstream media was obsessing over Justin Bieber's arrest in Miami. Her first screenplay, about the intrepid, young Welsh journalist Gareth Jones helping inspire George Orwell's Animal Farm, the book that made him famous, is in development in Europe.

"Odyssey" version:
My mother and father were born in displaced persons camps in 1945 Europe. The hellish machine of the Soviet Union that their parents escaped has been one of my major preoccupations for the past decade, leading me to discover a priceless "gift" from George Orwell in our family. This is the subject of a lecture I gave at the National Press Club in Washington, D.C. I expanded the lecture into the book Orwell and the Refugees: The Untold Story of Animal Farm, with a beautiful cover illustrated by artist, activist, and investigative journalist Molly Crabapple whose work is in the permanent collection of the Museum of Modern Art (MoMA).
I'm a longtime contributor to the Huffington Post, and I helped launch online video for Condé Nast Portfolio and AOL Money & Finance. I regularly reported on-camera for these outlets, and covered the presidential conventions, the Sundance Film Festival, and Ford Motor Company's Scientific Research Laboratory. After graduating from the University of California at Davis with high honors in History, I worked as a community organizer in the 2004 presidential election, wrote for the Portland Mercury in Portland, Oregon, and lived in Kyiv, Ukraine where I auditioned to be a national news anchor.
Since marrying a Parisian, I've been expanding my waistline and knowledge of wines and cheeses, and I'm learning French by taking my sweet time reading Le Petit Prince. This classic French children's book was the theme of our wedding in Miami.